PERSONAL MEMORIES
The following collection of personal memories was submitted by squadron members. This collection describes events in various locations while the contributors were serving with Marine Bombing Squadron Four Thirty-Three.
My Tour with VMB-433: In September of 1944, I was trained as a radio-radar operator prior to going overseas. I traveled by boat and arrived on Emirau in January of 1945 and was assigned to a VMB-433 flight crew headed by Lieutenant Colonel Miller and Captain Fialcowitz. Later, I was reassigned to the Major Whitney and First Lieutenant Weidenkeller's crew.
After several missions, I visited Sydney, Australia, in July of 1945 for rest leave. In late July, I was assigned to a crew to fly to Hilo, Hawaii, and pick up a new plane. During this trip, Japan surrendered. Prior to the surrender, VMB-433 moved from Emirau to the Philippines. As a result, I joined the unit in Malabang. From there, I was given orders to return to the United States by boat and arrived in San Diego in December, one day before my 21st birthday, and was given leave. At the end of December, Mary and I were married. After my leave, I returned to San Diego, was awarded an Air Medal and given discharge papers. Contributed by Charles W. Noble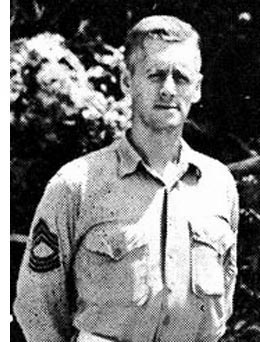 Eaton K. Goldthwaite—Top Sergeant: My first encounter with Sergeant Major Goldthwaite was in the late summer of 1943. He was an "old" man of 36 and I was a 21 year old Second Lieutenant fresh out of Pensacola wearing shining gold bars and Navy wings. In those days, Marine Corps pilots were transfers from the Naval Cadet Program and I had not worn a Marine Corps uniform until graduation from flight school. About all I knew about the Marine Corps was what I had seen in the movies... and in the movies, everyone jumped when a sergeant spoke!
Upon reporting to the Marine Corps Air Station at Cherry Point, I was assigned to the newly formed Marine Bombing Squadron 433. When I walked into the squadron office and handed my orders to a huge man with six stripes, my knees were shaking as I stood in awe before this rugged Marine. When he called me "Sir," I actually turned around to see who he was speaking to. Even though his words came out like thunder, he was polite, gentle, and soft-spoken. That "tough" Marine was Sergeant Major Goldthwaite and I was sure he was ten feet tall! For the next two years, we were both assigned to the same Squadron and my respect for him never waned.
At the end of World War II, we went our separate ways and I did not see or hear of Goldthwaite until almost 45 years later. It was then that we became friends. After all those years it was a shock to find out that our First Sergeant was not a huge man, but 5 foot, 10 inches. He was not a career Marine as I assumed but enlisted in the Corps as the war started. Because of his age, 35 at the time, he was told he would never be assigned to an operating unit but would be on permanent stateside guard duty with no chance for promotion. Being a real patriot, he accepted that fate and was shipped off to Parris Island. Later, he was assigned to a guard detachment at an east coast installation.
Unknown to his superiors, Goldthwaite had been a newspaper reporter prior to the War. When off duty, he continued with his primary interest—writing. His Commanding Officer soon learned that he could operate a typewriter, a rare talent in those days, and he was promoted and assigned to the company office. Soon, higher ranking officers learned of his talents and his promotions continued. In only a few months out of Parris Island, he became a Sergeant Major and was transferred to our combat squadron at Cherry Point.
Later, while operating from a small Pacific island, Goldthwaite wrote his first novel. During his lifetime, he authored 10 suspense novels, numerous short stories and magazine articles, and was the editor and publisher of several newspapers. But to the end, his proudest accomplishment was being a Marine.
On January 15, 1994, Sergeant Major Eaton Kenneth Goldthwaite died in Seattle at age 86. And in my mind, he will always be 10 feet tall. Contributed by Bill Parks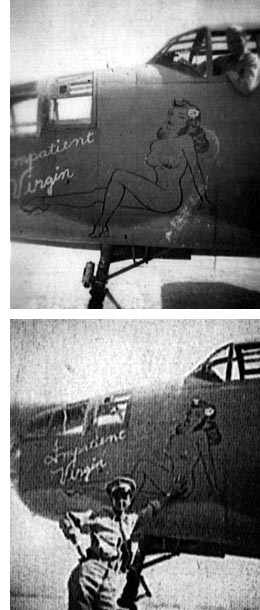 Flight to War: After ten days in Hawaii getting our plane modified we got clearance to continue our flight to war. We took off from Ewa Marine Air Base on 28 September 1944 in BuNo 35183 on a southerly heading toward Palmyra Island. It's 5.3 hours flight time, nine hundred fifty miles, to a small flat island standing 5 or 6 feet above high tide. As our plane is being services, I watch a man in a sarong husking coconuts. He is very good at impaling a coconut with a pointed stick that stands waist high, then he twists the coconut from left to right and the husk falls off. He lets me try it and it works. He asks me if we are flying to Funafuti Atoll, and if we could take a bolt of red cloth to his family. Funafuti would be our second stop if we were flying that route, but we are not going that way. I told him to keep asking because some of the planes behind us would be going this route. He said he was making 30 dollars now and could buy things for his family. That is 30 dollars per month.
We continue for seven hundred and twenty miles. 3.8 hour flight to Canton Island. It is a coral atoll with a narrow ring of land surrounding a large shallow lagoon. The airfield is on the north edge and only two trees are seen. The taller tree has a watch platform. For the evening meal, Lieutenant Pittner and I go to a mess hall along with about two hundred men. We are served a plate of food along with a fork. At the table, Pittner was not eating, and he was trying to get the attention of the waiter. Since we were short of time, I ask, "What do you want?" He replied, "I need some bread for a pusher." I said, "Use your thumb."
I had been talking to the crew about the war and our task, and every one was eager to get on with it. Later that day or during the night, Corporal Philip Brown found paint, a ladder, and a brush, and then lettered the side of the plane—IMPATIENT VIRGIN, and then added a nude female form. The next day, we took a snapshot of Lieutenant Pittner, the pilot, at his window on the plane, with the art work. It would be Pittner who would get in HACK at this unapproved art. They took a snapshot of me of me in a casual pose leaning against the plane. Do you know where my hand was? This was my wife's birthday as we took off for Samoa. Contributed by Dave Arant
More on the Impatient Virgin: The "Impatient Virgin" was a PBJ-1D, Bureau Number 35183. Prior to flying her overseas, our departure from California was delayed as the aircraft was in very bad condition and needed a great deal of work before we were granted clearance to proceed. In fact, her condition was so bad that those in California thought she was RETUNING from combat operations in the Pacific!
This plane was flown overseas by the following crew: First Lieutenant Emil D. Pittner; Second Lieutenant Hugh D. Arant; Staff Sergeant Arlyn V. Dikeman; Sergeant Melvin C. Huebschman; Sergeant Apollo J. Cricones; Corporal Philip C. Brown, and; Private First Class Douglas D. Neal. After arriving at our destination on Emirau, our plane was turned over to the MAG-61 pool and we never saw her again. Recently, we learned that she initially got assigned to VMB-413 and was then reassigned to VMB-611 where she was eventually scrapped in July of 1945. Contributed by Dave Arant